Furnace Tune-Up
We know how inconvenient it is when your furnace breaks down on one of the coldest days of winter! Avoid the problem by keeping your equipment in top condition to maximize performance with our furnace tune-up service.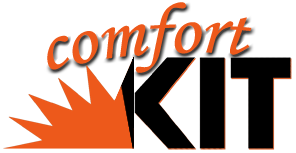 Comfort Kit Maintenance Contract
Get onboard with our Comfort Kit service package for worry-free maintenance on your air conditioner, furnace, or both!
Check Thermostat (functions, settings, location)
Inspect Heat Exchanger (primary and secondary if applicable)
Check / Lubricate Fan or Pump Motor (as applicable)
Check Blower Motor Amps (as applicable)
Check Filter System (clean / replace if customer has filter)
Check Pilot Burner / Flame Rod (clean as required)
Check Safety Controls (wiring / condition / application)
Check and Adjust Heat Rise (as required)
Test for Carbon Monoxide (flue / atmosphere)
Check Humidifier Damper Position (seasonal – winter open)
Inspect Gas Piping (code compliance)
Inspect Chimney / Venting System
Clean Burners (as required)
Clean Blower (as required)
Clean Secondary Heat Exchanger (as required)
Check Condensate Pump / Lines (clean as required)
Check Firing Rate (adjust as required)
Inspect Electrical Connections (tighten, clean as required)
Check System Airflow
Locate / Identify System Switch and / or Breaker
Camera Inspection
Call us today to book your furnace tune-up visit!