Central Vacuums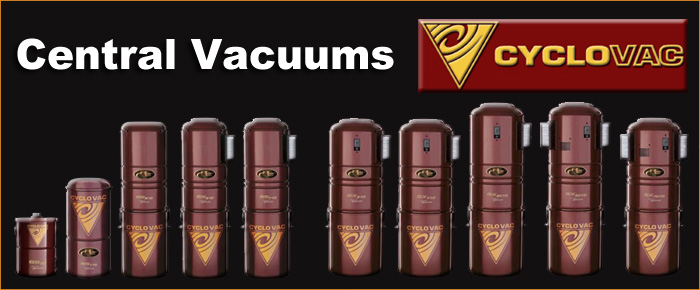 Say goodbye to the canister vacuum for your daily cleaning! Central vacuums can be installed in a new construction or an existing home. So do not wait any longer and transform the way you clean!
What is a Central Vacuum System?
Central vacuum systems are permanent vacuum systems which use a centrally located, motorized suction container. The system's motor and the debris container are generally installed in the basement, garage, or in a storage room of a house, so they are much quieter to use than a standard canister vac.

A central vac includes a tube system that's hidden within the walls of your home and connects to vacuum wall ports, located throughout the house. When you're ready to clean, just pull out one of the convenient tubes and use your central vacuum!
Contact us today for more information.
Easier Cleaning, Improved Air Quality With Central Vacuums!
Benefit from improved air quality. Cyclo Vac vacuums are equipped with HEPA filters, including an antimicrobial treatment to prevent the growth and proliferation of molds and bacteria that can cause allergies and respiratory disorders.