Air Conditioner Tune-Up
We know how inconvenient it is when your air conditioner breaks down on a really hot day!
Be proactive to avoid being that person with skyrocketing blood pressure, frantic for a technician who can fix your A/C on a roasting weekend. Keep your cool and find out why spring is the best time to schedule an Air Conditioner tune-up.
Flexible Scheduling
If you wait until summer, your HVAC contractor will be booked solid dealing with A/C emergencies. In spring, the contractor is more likely to be able to work around your schedule. Contact us today!
Efficiency Increase
The dirtier your A/C system gets, the harder it has to work to achieve even subpar results. You may find yourself adjusting your thermostat downward, and still experiencing a hotter, more humid home than desired. During a tune-up, a technician boosts efficiency by cleaning your A/C's coils, motor, and other components with specially formulated solutions.
Emergency Prevention
Regular air conditioner tune-ups can also prevent major A/C breakdowns. Perhaps you've heard the old expression "a stitch in time saves nine". In A/C terms, this could mean your technician prevents your compressor from burning out by fixing a small refrigerant leak noticed during a tune-up. Preventative maintenance is much more affordable than having your HVAC contractor replace a major part.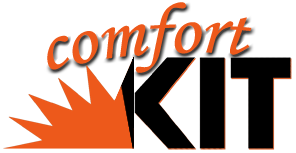 Comfort Kit Maintenance Contract
Get onboard with our Comfort Kit service package for worry-free maintenance on your air conditioner, furnace, or both!
Here's what we do as part of your routine maintenance:
Check Thermostat (function, settings, location)
Check / Lubricate Furnace Fan Motor (as applicable)
Check Blower Motor Amps (as applicable)
Check Filter System (clean / replace if customer has filter)
Check Contactor (clean as required)
Inspect Condenser Fan Motor and Blades
Check Condenser Coil (clean as required)
Check Compressor
Check Refrigerant Line Temperatures
Check Evaporator Temperature Drop
Check Humidifier Damper Position (seasonal – summer closed)
Check Condensate Pump / Lines (clean as required
Inspect Electrical Connections (tighten, clean as required)
Check Capacitors (for leakage / function)
Check Electrical Loads / Current Draw
Clear Debris from Condenser
Inspect Service Valves
Clean Blower (as required)
Inspect Evaporator Coil (clean as required if accessible)
Locate / Identify System Switch and / or Breaker
Check and Advise Customer on Performance and Air Distribution