Comfort Kit: Maintenance Contract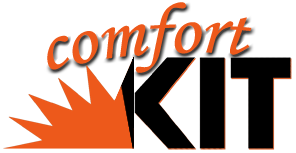 Comfort Kit Maintenance Contract
Get onboard with our Comfort Kit service package for worry-free maintenance on your air conditioner, furnace, or both!
A Comfort Kit Service Contract will provide you with the comfort of knowing that if anything happens to your equipment, it will be taken care of with no effort from you. Our Comfort Kit Service Contract is available to counteract potential future problems. With a Comfort Kit Service Contract, take it off your list and consider it done. One yearly payment not only covers the cost of an annual cleaning of your equipment, it covers parts and labour as well. Purchase a contract per equipment piece or bundle them up. It's your call. Contact us for more details.

We are here, we are available, and we are committed. Download the Comfort Kit details in PDF.
Furnace
Air Quality Evaluation
21- Point Inspection
Energy Savings Analysis
Increased Appliance Lifetime
Thorough Appliance Cleaning
Lubrication of Motors
Gas Pressure Adjustment
Priority Service
Satisfaction Guaranteed
Labour Warranty Discount – 100%
Repair Warranty Discount – 100%
Parts Warranty Discount – 100%
No Deductible
Air Conditioner
Check Thermostat
Check / Lubricate Furnace Fan Motor
Check Blower Motor Amps
Check Filter System
Check Contactor
Inspect Condenser Fan Motor
Check Condenser Coil
Check Compressor
Check Refrigerant Line Temperatures
Check Evaporator Temperature Drop
Check Humidifier Damper Position
Check Condensate Pump / Lines
Inspect Electrical Connections
Check Capacitors
Check Electrical Loads / Current Draw
Clear Debris from Condense
Inspect Service Valves
Clean Blower
Inspect Evaporator Coil