Cooling Systems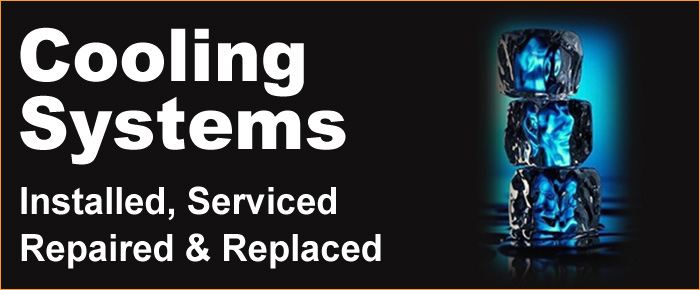 Air Conditioner Maintenance, Installation and Service
Air conditioning maintenance is one of our main services, but we also do residential air conditioner installations. We offer the finest-quality a/c products. These brands promote maximum home comfort and indoor air quality.
Maintain Your Air Conditioning and Cooling Systems:
There are two parts to your central air conditioner: the evaporator and the condenser. The condenser unit is normally installed on a concrete base outside your house. The evaporator is usually located over your main air duct.
Most central air systems are connected to your forced-air system; the same system of blowers etc. used to heat your house are also used to distribute the cold air from your a/c. Hot air within your home moves toward the furnace via your return duct. The blower from your air system moves the hot air across the refrigerating evaporator coil, which cools the air before it travels through your ducts to cool the air in your home.
The condenser and evaporator are both sealed systems, so you should always hire a professional to service your air conditioning. You should schedule an annual professional checkup and maintenance call well before the summer heat begins! Northern Energy Systems offers a handy ComfortKit Maintenance Contract to make sure your house's heating and cooling systems are fully operational.